Your Neighborhood Craft Beer, Wine & Cocktail Bar in the Heart of North Raleigh
We are a casual local pub focused on building a sense of local community and being a place where you can enjoy a welcoming atmosphere whether it is your 1st visit or your 101st and if you are a craft beer expert or someone who simply wants to come and spend time around good beer and good people. Our bar has cosy indoor space and an outdoor patio which is a great place to hang out with friends and family. Also, being dog lovers ourselves, we are dog friendly so feel free to bring your furry family along with you. We hold a number of weekly events such as music, trivia, live comedy shows, vendor markets and more. Looking for a rental space for a private party ? We can do that too, see our event rental page.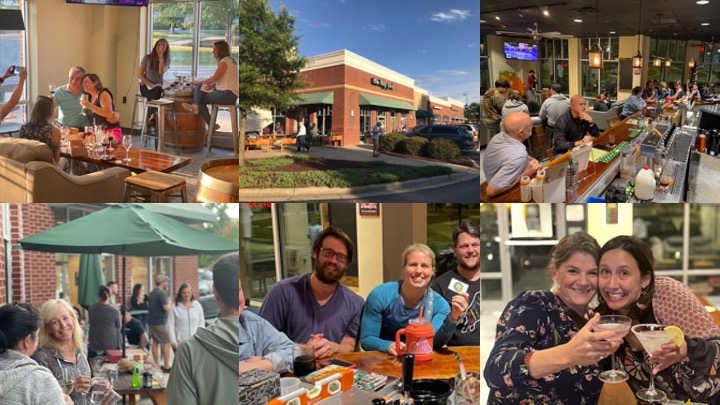 Our Bar
We have 29 frequently rotating taps of craft beer from the best breweries in the USA and further afield. Being from the UK and growing up around cask ales, we also look for opportunities provide you with amazing cask beers. In addtion to the best in craft beer on tap we also frequently have craft cider and mead on tap and on the shelf sourced from local NC buisinesses.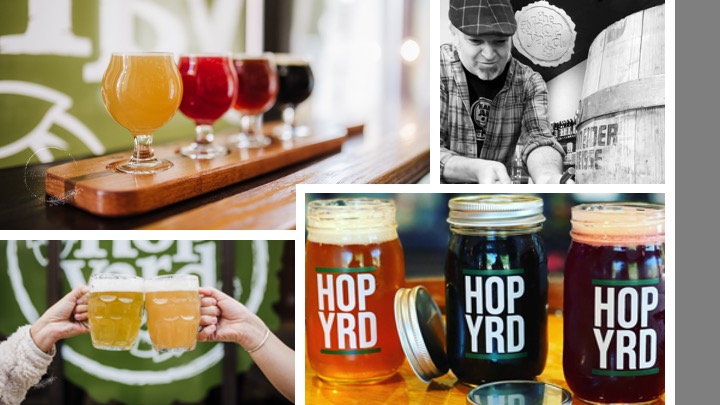 With there being so many wine bars and wine stores to choose from, at the Hop Yard we focus on curating our wine collection to include wines we love that are sourced from boutique wineries and producers that cannot be found in larger stores. We also focus on sourcing our wine selection from producers who use sustainable and organic wine making practices in addtion to biodynamically produced and vegan wines. We have an extensive wine selection to meet all price points and our collection comes from all over the world including the US, Europe, Australia, South America and South Africa.

We have a full bar and in addtion to sipping bourbons and whiskeys we have also recently launched our craft cocktal menu and weekly craft cocktail specials. Come along and try our French 75!
Our Retail
We pride ourselves on always having a wide selection of the best fresh craft beer available both to drink in or to take away. We build relationships with surrounding breweries and wholesalers to make sure we keep our finger on the pulse of what's new and trending. In addition to selling the best of craft beer, we also sell cider, mead, kombucha and hard seltzers sourced from local NC businesses and further afield.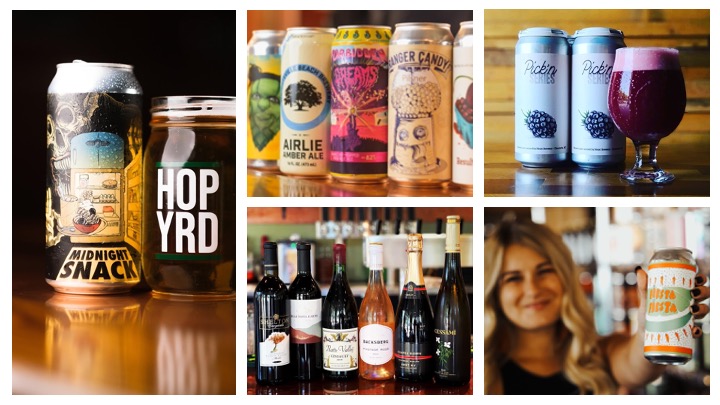 Our Philosophy
We believe that a bar can be the heart of a community. The Hop Yard isn't just the best location to explore craft beer, wine, cocktails, cider and other craft beverages in North Raleigh, it's a place to get connected into the craft beverage scene that has become so strong in North Carolina and it is a place to sit down and chat with our friendly staff and to make new friends, no matter who you are.
So stop by, pull up a bar stool and we can chat over a pint.
See you real soon.
Cheers!
The Yard Crew