Strong Beer Month 2018 Kickoff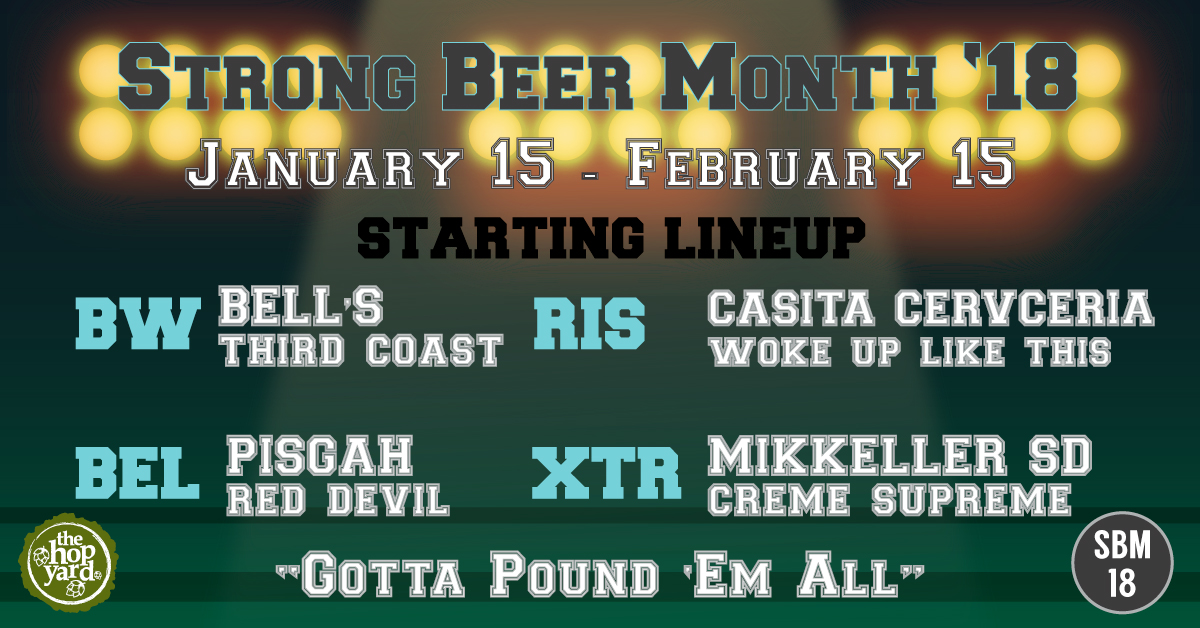 Strong Beer Month Current Lineup (Updated 1/31 10AM):
Prairie - Bomb! (RIS)
Southern Pines - Grand Cru (BEL)
Lagunitas - Olde Gnarleywine (BW)
Mikkeller SD - Creme Supreme (XTR)

Beers waiting on the sidelines for their turn:
BEL
Haw River  - Snow Hands
BW
Mikkeller SD - Ol Nagelfar
RIS
Alesmith - Hawaiian Speedway Stout
XTR
Bond Brothers - Trubulent Flight
The Hop Yard is excited to kick-off Strong Beer Month 2018 (SBM 18) on Monday, January 15th. From January 15th until February 15th, we'll be featuring a collection of strong beers on draft. 

Strong Beer Month beers will be divided into 4 categories:
Russian Imperial Stouts (RIS)
Belgian (BEL) 
Barleywines/Old Ales (BW)
Extra Credit (XTR - aka everything else)

To celebrate Strong Beer Month we're giving away commemorative Strong Beer Month glassware to those brave enough to sample 3 10oz beers from each of the 4 categories above. Stop by The Hop Yard beginning January 15, 2018, to pick up your Strong Beer Month PourCard and we'll stamp it each time you tick off a new taste.
More beers will be added if needed!
Cheers and we'll see you on the 15th!



And thank you to Freepik for the artwork assist: https://www.freepik.com/free-vector/realistic-american-football-background-with-helmet_1039207.htm