Hop Yard 2nd Anniversary Party - Rescheduled to Saturday 10/15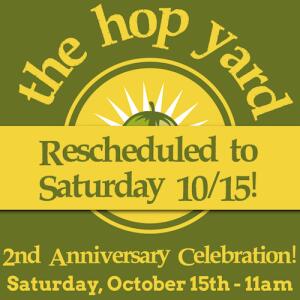 Join us on Saturday, October 15th as we celebrate our 2nd Anniversary! We'll have a pig picking, corn hole, expanded outdoor seating, and lots of BEER!
We'll be featuring Raleigh's own Lynnwood Brewing at the tasting bar, plus special selections from Southern Pines, Draft Line, White Street, Trophy, Wicked Weed, Olde Hickory, Foothills, Four Saints, Highland, Neuse River, Brueprint, and Bold Rock.
Notes: We will not be filling growlers during the party. The pig picking will start around 3pm. The 'Beer On Tap' page on our website will be updated in real time and will be the best way to find out what's on tap - along with the digital board in the shop.